Tori Spelling recalls Luke Perry going 'to brawl' for her amid a 'verbally abusive relationship'
The 'Beverly Hills, 90210′ star died in 2019 after multiple strokes
Tori Spelling is looking back on her friend fondly.
Monday marked what would have been the 55th birthday of Spelling's late "Beverly Hills, 90210" co-star Luke Perry, and the actress, 48, took to Instagram to pay tribute to her pal, alongside a sweet throwback photo of the actor planting a kiss on her cheek.
Perry died in 2019 after having multiple strokes.
"Happy Birthday to my friend and brother Luke… You are missed so much," she began. "Not a day goes by that I don't think about you. You were one of a kind."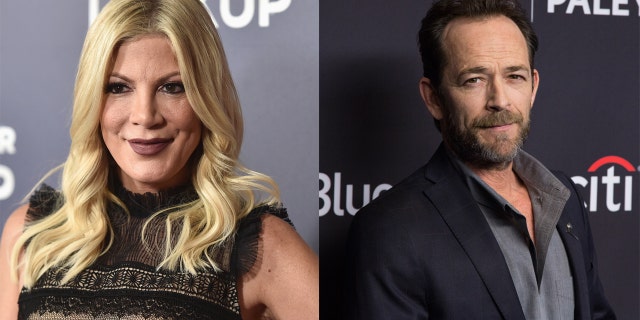 Tori Spelling paid tribute to Luke Perry on Instagram, revealing that the actor 'went to brawl' over her abusive relationship.
Spelling recalled meeting Perry when she was just a "young insecure teen girl" and praised her for being the "first boy" to make her "feel worth as a human, a female, and a comedienne."
"You stood up for me fiercely. Went to brawl literally for me when I was in a verbally abusive relationship and sat and talked me thru the most insecure moments of a teen angst girl's life," she continued.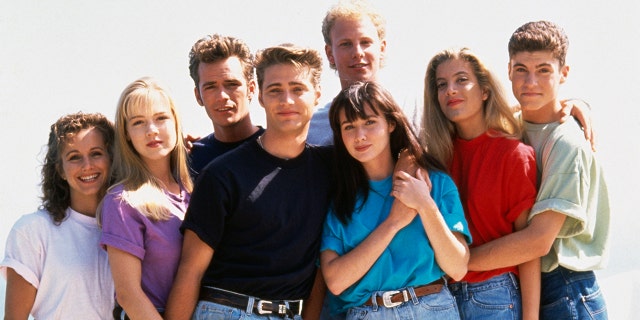 Spelling and Perry starred together in 'Beverly Hills, 90210.
"You had a way of making every single human feel confident, heard, and special the minute they met you," Spelling said. "Your energy was pure selfless love. A giver in this ungiving life. Your loving nature carried thru decades."
She then gushed over Perry's relationship with her own children, as he'd frequently ask about them in conversation and end his messages with "Uncle Luke loves them."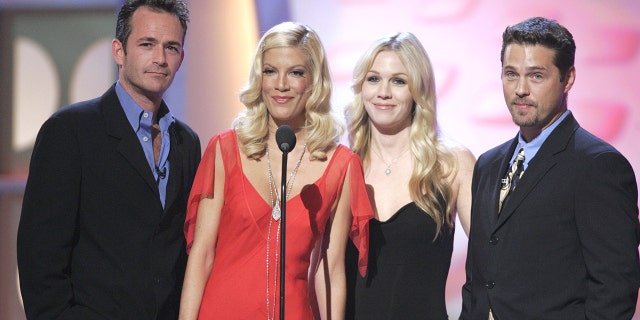 'Beverly Hills, 90120' alums (left to right) Luke Perry, Tori Spelling, Jennie Garth, and Jason Priestley.